Greece, 21 December: The 'HEART' research project proposal by NET2GRID, HERON and the Datalab at the School of Informatics of the Aristotle University of Thessaloniki was amongst the 10% of the project applications to be funded by NSRF, the Greek National Strategic Reference Framework, following a rigorous selection process.
Τhe 'HEART' project stands for "Hardware-enabled Energy Analytics in Real Time". Τhe aim of the project is to develop an end to end solution which enables residential customers to get real time insights into their household's energy consumption, while unlocking numerous business and societal opportunities for all interested stakeholders.
The project was awarded over 830,000 Euros and it is scheduled to last for 2,5 years.
The 'HEART' project will be delivered by a strategic cooperation between academia and industry which will bring together NET2GRID – a leading international start-up, HERON – one of the biggest energy providers in Greece and the innovative Datalab – a vibrant research lab at the School of Informatics of the Aristotle University of Thessaloniki. NET2GRID with its extensive experience in energy data acquisition and analytics will be the project coordinator.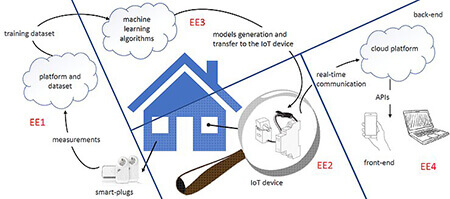 In a nutshell, the 'HEART' project will progress the design and production of a smart, highly accurate and cost-effective device, capable of collecting energy consumption data from 100 test households in Greece. A cloud infrastructure will be put in place to collect and analyse data which will be used to train smart (machine learning) algorithms to identify energy usage patterns on appliance level. Τhe core aim is to come up with energy analytics algorithms which will not only be accurate, but also adaptive and lightweight enough to run on the hardware (at the edge and the cloud). This will minimise communication and hosting costs and thereby allow for real-time, cost-effective and scalable solutions. The extracted knowledge will be shared with consumers and/or utilities managers via a user-friendly interface.
Dr. Dimitrios Doukas, Chief Information Officer at NET2GRID said:
''From the Internet-of-Things (IoT) towards the Things-of-Importance (ToI), that's HEART's ambition. Through our cooperation with HERON and the Aristotle University of Thessaloniki, of which we are deeply proud, we are delivering the most innovative real-time energy analytics algorithms running on the edge.''
George Daniolos, Managing Director at HERON said:
"We are excited to be participating in such an innovative project together with Net2Grid and the Aristotle University of Thessaloniki. Projects like these mark our ambition to be the leader in the energy transition towards a zero-carbon economy in Greece. Our role is to show that this necessary transformation creates value and that it can combine performance and the common good."
Prof. Athena Vakali, Professor at The Aristotle University of Thessaloniki said:
''Datalab is constantly targeting transfer of knowledge and scientific outcomes application to real life scenarios, contributing to both social good and economic growth. It's a privilege and an honor for Datalab team to work with the brilliant pioneers and entrepreneurs from Net2Grid and HERON under the ambitious HEART project which will advance Datalab's algorithms, knowledge, and scientific capacity in such a breakthrough solution for real-time energy analytics''